R系列擺式磨粉機(雷蒙機)
---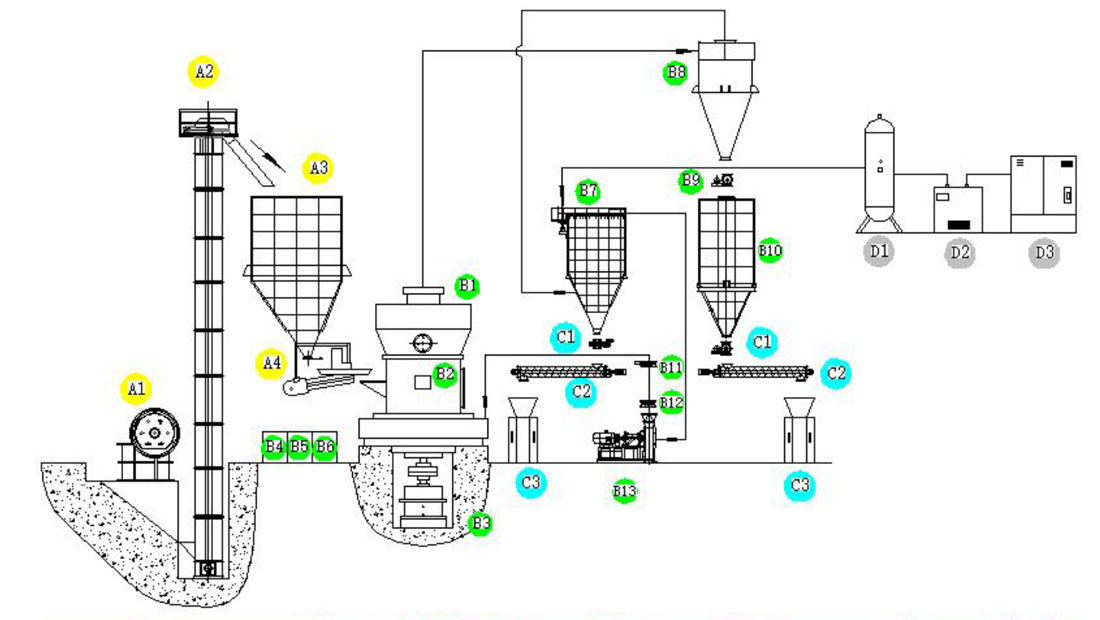 FLOWCHART OF R SERIES PENDULOUS ROLLER MILL PROCESS (RAYMOND MILL)
R系列擺式磨粉機工藝流程示意圖(雷蒙機)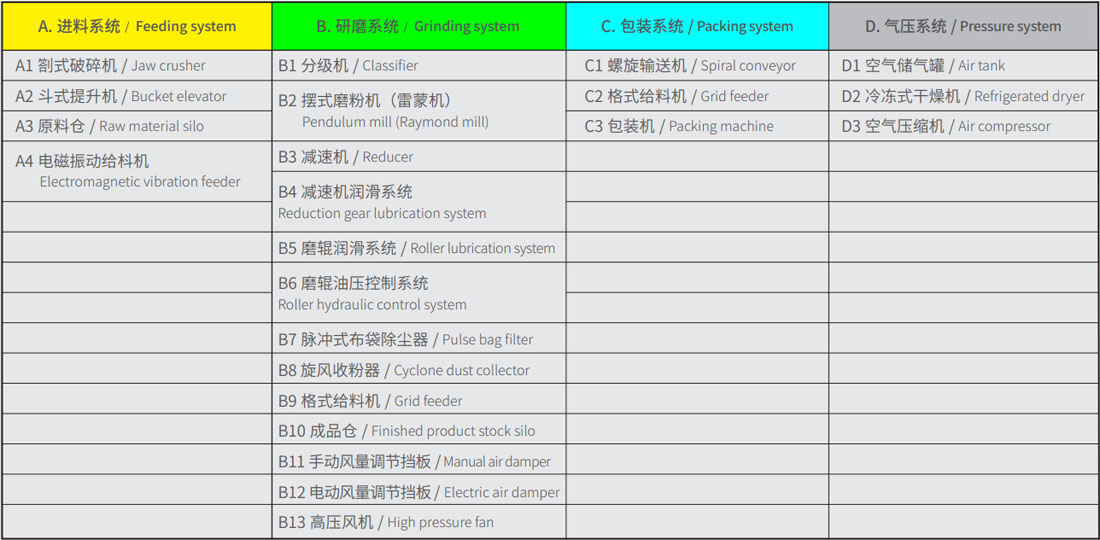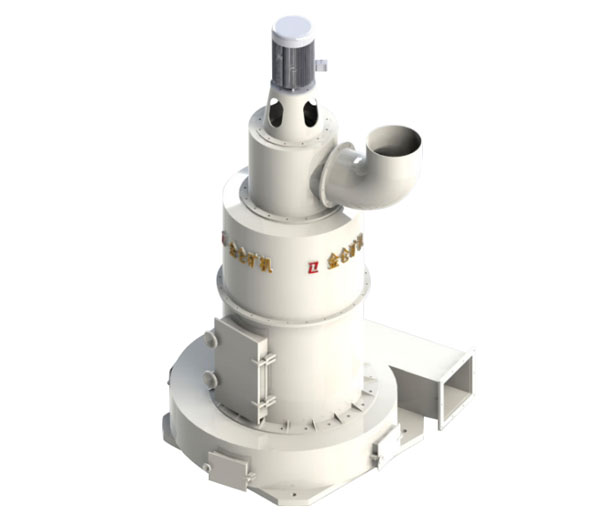 近年來隨著非金屬礦物質在超細粉體應用領域的廣泛發展,下游企業對非金屬礦產品的要求越來越高。特別是對產品細度有了更高的要求,這使得傳統雷蒙磨顯得力不從心,傳統雷蒙磨存在的先天不足一直困擾著礦物加工企業和設備制造廠家。
In recent years, with the extensive development of nonmetallic minerals in the application field of ultrafine powders, downstream enterprises have increasingly high requirements for nonmetallic minerals. In particular, there are higher requirements for the fineness of products, which disenables the traditional raymond mill to meet these requirements. The inherent deficiencies of the traditional raymond mill have been perplexing mineral processing enterprises and equipment manufacturers
其中主要問題表現在: / The main problems are embodied in the following aspects:
●產品細度低,普通雷蒙磨細度一般在500目一下,這些設備只能占領較低端的粉體應用市場。
Low product fineness. The fineness of ordinary raymond mill is generally below 500 meshes. Such devices can only occupy the lower-end powder application market.
●機械故障率高、耗能大、噪音大、排放污染大。
High mechanical failure rate, high energy consumption, high noise and high pollution emitted.
●系統效率低產品的收集系統分離效果不理想,大量的細粉得不到有效的收集而在系統內重復循環造成動力浪費。
The separation effect of the collection system for products with low system efficiency is not ideal, and a large amount of fine powder is repeatedly circulated in the system rather than being effectively collected, resulting in power waste.
●主機風箱風道設計存在欠缺,進入研磨區物料中的較大顆粒和未來得及研磨碎的顆粒經常被跑進風箱聚集在蝸箱尾部,并不斷向前延伸,使過風量逐漸減少,易造成塞車、不出粉或少出粉的現象,影響產量。
There are deficiencies in the air duct design of the main engine bellows. Larger particles and particles that have not been ground in time in the grinding area for materials often run into the bellows, gathering at the tail of the worm case and extending forward continuously, which gradually reduces the air volume, causes blocking with no powder or less powder easily, and affect the output.
經過我公司多年的設計、生產雷蒙磨機的經驗,自主研發出的XR高細雷蒙磨粉機完美解決了這一難題,并獲得了高新專利(專利號0052871.1)
For years of designing and producing raymond mill as a roller mill, XR high-fine raymond mill independently developed by our company has perfectly solved such problems and obtained a high-tech patent. (Patent No.: 0052871.1)
技術優勢和特點/ TECHNICAL ADVANTAGES AND CHARACTERISTICS
對主軸和梅花架進行了有利于穩定運行的結構改造,使其運行平穩,中心軸區無擺動。將分析機由腔內拖式,改為腔外垂吊傳動腔內旋轉兩隔離,增強了工作的穩定性、耐用性。在粉碎區部,使待研磨物料始終聚集在研磨粉碎區進行有效加工,提高了研磨效率。還對磨輥結構進行了更新,使磨輥輪和磨輥軸可以互補運轉,在自轉的同時也可以公轉,使其功效和耐用性更強,并能在更大的研磨力和更高的運轉速度下工作。在通風部分,將風箱和風道均有原水平底改為向中心傾斜,形成斗狀,確保風箱、風道始終暢通無堵塞,從而使風量始終不會衰減,主機磨能夠一直處于高值。分級機采用葉籠式分級系統,打打提高了產品細度。
采用新式雷蒙機可以對方解石、白云石、滑石、高嶺土、重晶石、石英石、螢石等費經書礦物進行超細研磨。經實踐檢驗,選用進料尺為25mm的方解石進行研磨,當細度調整到1250目(10um)時,產量可達到800-2000kg/h,比傳統雷蒙磨機具有更高的性價比。
The spindle and star rack have been restructured in favor of stable operation, so that the operation will be more stable without swing in the central shaft area. The analytical engine is changed from towing in the cavity to hanging out of the cavity & rotation in the cavity, thus enhancing the stability and durability of the work. At that crush area, materials to be ground are always gathered in the grinding area for effective processing, to improve the grinding efficiency. The structure of grinding roller has also been updated, so that the grinding roller wheel and shaft can operate complementarily, and revolve while rotating, to improve their efficacy, durability and ability to work under greater grinding force and higher running speed. In the ventilation part, the original horizontal bottom of the bellows and air duct is changed to incline to the center and form a bucket shape to ensure that the bellows and air duct are always unblocked and free from blockage, so that the air volume will not reduce and the main mill can always operate at a high value. The classifier adopts a lantern-pattern classification system, which improves the fineness of the product.
The new raymond mill can be used for ultrafine grinding of calcite, dolomite, talc, kaolin, barite, quartz, fluorite and other nonmetallic minerals. The practice suggests that the selected calcite at a feeding size of 25mm for grinding. When the fineness is adjusted to 1,250 meshes (10um), the output can reach 800-2,000kg/h, which has higher cost performance than the traditional raymond mill.
雷蒙機技術參數/ Technical parameters


公司簡介? ? ? ?產品中心
施工案例? ? ? ?公司環境
新聞資訊? ? ? ?聯系我們
海城市金侖礦山機械有限責任公司
電話:136 0412 4805
傳真:0412-3214 668
地址:遼寧省鞍山市海城市響堂街道
大盤線紅光工業園區
網址:jinlunmach.com